"The earth trembled between his feet and a tongue of magma spewed from the side of the cliff into the sea, igniting the oil which had seeped up from the broken depths. Kerebos reached for the distant flames as they spread across the surface, but another gust struck him, lifting the cape from his broad shoulders. Droplets froze on his black armor."

Experience the gritty and dangerous world of Pangaea in Nicholas Prata's masterful novel,

Kerebos

and it's climactic companion,

Dream of Fire

. With the power of Korenthis in eclipse, the wastes of Pangaea are terrorized by the raw, merciless might of the Black Legion. All fear them. None dare resist them. They coerce fealty, exact harsh tribute, and leave charred destruction in their path. To keep up their strength, they forcibly recruit the biggest, fastest, sturdiest young men and brutally mold them into heartless killers. All Pangaea longs for the day when the power of the accursed Legion is finally broken.


Praise for Kerebos

...




"

[A] gruesomely brilliant work of military fantasy....When I read the last pages, my jaw dropped, and I re-read it twice, to make sure I had read it right, and to put it together in my head....To me, this combination of being completely shocking, not being forced, and making perfect sense, makes the ending of "Kerebos" perfect.

"This tale, in its content, is the most unrelentingly and uncompromisingly brutal story I have ever read. Usually, the cruelty and carnage and vivid savagery of a book like this, would make me put it down, even if it was delivered in small pieces. In "Kerebos", the violence is pervasive. I could not put it down, and only wanted to do so once, when it first emerged. What made it tolerable?

"First, this could easily have ended up as a set of caricature-like characters hacking and slashing their way through a story. It is none of that. Instead, the characters, good and evil, are three-dimensional, with flaws and strengths, dreams and hopes, and differing visions of the future. Their friendships, their loves, and their hatreds, all seem very real....

"Second, while the action is frequently gruesome in nature, it is described perfectly. And, it all fits together into a coherent whole. ...

"Third, the writing itself is very, very good. The author creates imagery well, and displays an excellent vocabulary, without being condescending or reveling in his own eloquence."

—C. McCallister, Top 500 Reviewer on Amazon.com



About

Kerebos

...


In abject despair over an unforgivable crime and outcast from society, farmer's son Livios Rapax falls into the hands of the notorious Black Legion. As he fights to stay alive and to protect those he loves from the madness around him, he rises ever higher in the ranks while his compromises with the Legionaries' depravity and with his own conscience push his soul deeper into an earthly damnation.

In Nicholas Prata's crisp, polished prose, Kerebos unfolds with an epic sweep with complex, fascinating characters through amazingly vivid battle scenes. Through the exciting and emotionally-charged story of one man's trials and temptations emerges a powerful and thought-provoking study of the seductive nature of evil.




Click here to view an excerpt of Kerebos.


---

Praise for Dream of Fire ...

"Dream of Fire is a powerful epic fantasy that sweeps the reader along with its exciting story line and two fabulous lead characters. Redeeming Kerebos seems almost like converting Hitler....The doubting Antiphon is sort of like Moses feeling he is too inadequate to do the task....The battle scenes that are vividly described and action-packed pale next to the hook that keeps the audience wanting to finish this work in one sitting." Five stars out of five.


—Harriet Klausner, #1 Reviewer on Amazon.com



"Nicholas Prata's

Dream of Fire

makes for an intellectually challenging but very rewarding work of dark fantasy....Kerebos thinks his sin is too great to be forgiven by God or man, and the philosophical depths to which he plunges in self-contemplation are both moving and very instructive to the reader....Dream of Fire succeeds admirably on two levels. The vividly described action sequences will appeal to those who yearn for excitement and wonderfully realistic battle scenes, while the deeper lessons of Kerebos' unique story will leave most readers pondering the philosophical and allegorical meaning of it all long after turning the last page. Few novels offer such a unique and powerful study of the nature of evil and the capacity for good in even the worst of men."



—YBFREE.com: An Alternative Entertainment E-Zine



"A classic Conan-style adventure novel. Actually, comparing this book to Conan might not be altogether fair. Although it is a fast-paced story--filled with action, epic battles, and buckets of gore--it is also an in-depth character-study that delves deep into the topics of evil and redemption....The character of Kerebos Ikar is one of the best written heroes/anti-heroes that I've come across in a while."


—Nth Degree: The Fiction & Fandom 'Zine



"One highly-charged, intense ride, with great larger-than-life characters. The protagonist, Kerebos, is one of the most intimidating hero/villains to come along in a long time."

"Prata does know his military tactics!... Those who enjoy hardcore military fiction will enjoy this book."


—Emily Snyder of the Christian Guide to Fantasy web site



"A fairly new author (backed by a fairly new publisher), Mr. Prata surprised me with his polished prose....WARNING: the author attempts to describe true evil ... and he does it disturbingly well ... good emotional draw, believable characters, well described action...."


—The Henriksen Parallaxweb site



"Prata creates in Dream of Fire a world in which anger and chaos collide with strength and faith; battle scenes are vivid with crashing swords and broken bodies.... [A] solid read, a book for the fantasy reader who enjoys an intelligent story of adventure."


—Kathryn Lively, author of

Little Flowers

About

Dream of Fire

...
Dream of Fire

is a dizzying plunge into the forgotten world of Pangaea. Kerebos Ikar, the pitiless warlord commander of the dreaded Black Legion, threatens extermination to all who oppose him. Even the vaunted armies of Korenthis quail at the thought of meeting the infamous Black Legion in battle. Yet from the holy city of Kwan Aharon, a lone priest rides out to meet the tyrant armed only with an ancient prophecy about a soldier of hell who becomes the herald of the final cataclysm.

Click here to view an

excerpt

of

Dream of Fire.
About the author:

Nicholas C. Prata resides in Delaware. He is also the author of the acclaimed historical action novel,

Angels in Iron

, which recounts the great siege of Malta of AD 1565. To find out more about Mr. Prata, click

here.
Buy both of these books together and save!
(see below for details)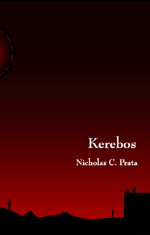 2007 ~ 356 pp.
paperback
978-1-889758-79-4

$22.95
with 10% discount: $20.65
To order
Kerebos
with a 10% discount
using a credit card, click the button below.
$9.99 on Kindle
Order Now

---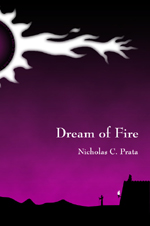 2002 ~ 248 pp.
paperback
978-1-889758-28-2

$16.95
with 10% discount: $15.25
To order
Dream of Fire
with a 10% discount
using a credit card, click the button below.
$10.99 on Google Play
Order Now
For a free preview
of this book, click here:

---
Order
Kerebos
and
Dream of Fire
by Nicholas Prata together and save even more!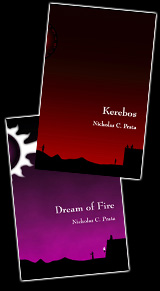 Kerebos + Dream of Fire =
$35.00